"Science Fiction Brewed Fresh Daily"


Date: August 2011
Issue No. 85
Precursor
I think 3 months is a long enough vacation...don't you? Many, MANY apologies for the hiatus -- life happens.
I'm not going to go through a looong list of everything I've missed in the last three months. We're just going to start fresh and pretend it didn't happen. There have been quite a few books, movies, even games come out in the past three months, but there's still more to come!! ...right?
Suffice to say. I'm baaack. Fresh wind, and all that...
All SF General and O*W*C chats will now be held in our Web chatroom at:
http://www.other-worlds-cafe.com/chats/chatroom/index.php
For news and information about Web chat, visit our site at:
http://other-worlds-cafe.com/chats/
New SF books for July & August 2009
THE PALACE OF IMPOSSIBLE DREAMS - Jennifer Fallon
EMPRESS OF ETERNITY - L.E. Modesitt, Jr.
WARRIORS 3 - George R.R. Martin, Gardner Dozois
THE WATCHTOWER - Lee Carroll
ANTIPHON - Ken Scholes
SPELLWRIGHT - Blake Charles
BLOOD SONG - Cat Adams
BIOSHOCK: RAPTURE - John Shirley
THE HALF-MADE WORLD - Felix Gilman
GATEWAYS - Elizabeth Anne Hull
A MIGHTY FORTRESS - David Weber
CONFESSOR - Terry Goodkind
GHOST SHIP - Sharon Lee, Steve Miller
THE WILD SIDE - Mark L. Van Name
FIRST COMMAND - A. Bertram Chandler
MONSTER HUNTER ALPHA - Larry Correia
DO UNTO OTHERS - Michael Z. Williamson
CITIZENS - John Ringo, Brian M. Thomsen
See also:
Night Shade Books
Del Rey
Science Fiction - Penguin Group(USA)
Bantam Dell Publishing Group
Random House, Inc: Science Fiction and Fantasy
Author's/Artist's Corner
Signal is a 14 page comic, written and illustrated by Paul Duffield. The book is an experiment in visual storytelling that attempts to use comicbook visual language in a free-form way; a kind of "visual poem" on the theme of the human search for knowledge and other life, inspired by SETI, and Carl Sagan's series Cosmos.
The first hand-made hardback copy was donated by the artist to The SETI Institute, and sold by the institute in a fund-raising auction.
Movie & TV Buzz
2011.08.05
---
NOTICE: For the time being we will be discontinuing FICTION CORNER
Con news
Conventions for August 2009:
2011.08.05 WHEDONFEST Scottsville, KY
2011.08.26-28 BUBONICON 43 Albuquerque, NM
2011.08.27 COMICONN &n Stamford, CT
---
Your favourite convention not listed here?
go to O*W*C Resources Conventions Calendar for more!
SPACE BABEL - The latest in Science, NASA and Other Agencies
"The successful liftoff of the Juno spacecraft from the Kennedy Space Center begins a five-year cruise to the planet Jupiter to investigate the planet's structure, atmosphere and magnetosphere. It will also provide detailed images of Jupiter's surface and capture the first high-resolution views of its poles. Also, possible Martian water flows; Vesta's new look; oxygen in space; and, Columbia debris. Plus, HQ crew visit; Russians spacewalk; SOFIA ambassadors; new Apollo 15 book; and dunk tank for food."
Dying starís last gasps provides new Kepler target
by Dr Emma Rigby for ASTRONOMY NOW
A new planetary nebula, recently discovered thanks to the combined efforts of amateur and professional astronomers and within sight of the Kepler spacecraft, could hold the key to understanding how our own Sun's life will end.
FULL STORY
Enceladus feeds water to Saturn
by Amanda Doyle for ASTRONOMY NOW
A 14 year old mystery has been solved as astronomers discover that plumes of water gushing from Saturnís moon Enceladus are the source of water in the planet's upper atmosphere.
Water vapour was detected in a massive torus surrounding Saturn by astronomers using ESA's Herschel Space Observatory. The torus has a thickness equivalent to Saturn's radius and it extends to a distance ten times wider. The torus remained invisible up until now as water vapour is translucent in visible light at such distances, however, infrared observations by Herschel easily revealed Saturn's secret water stash, which then rains down into the ringed planet's upper atmosphere.
FULL STORY
Liquid water on Mars might taste salty
DR EMILY BALDWIN, ASTRONOMY NOW
Fingers of dark material running down steep slopes in the warmest regions of Mars could be the result of salty water flows, say scientists interpreting repeat observations snapped by Mars Reconnaissance Orbiter's (MRO) powerful HiRISE camera.
FULL STORY
Boeing selects Atlas 5 rocket for initial CST-100 test flights
BY WILLIAM HARWOOD
STORY WRITTEN FOR CBS NEWS "SPACE PLACE"
KENNEDY SPACE CENTER, FL--Boeing will use United Launch Alliance Atlas 5 rockets for initial test flights of the company's proposed CST-100 manned spacecraft, a seven-seat capsule being developed for commercial missions to and from government and private-sector space stations in low-Earth orbit, company officials announced Thursday.
FULL STORY
NASA Must Evolve Its Interaction with Private Companies, 2nd-in-Command Says
Debra Werner, Space News Correspondent
MOUNTAIN VIEW, Calif. ó Despite concerns that funding shortfalls will hamper NASA's efforts to promote a private industry capable of ferrying cargo and crew into low Earth orbit, government and industry officials attending the Space Frontier Foundation's annual conference said they were confident that commercial firms would continue to play an increasingly important role in the U.S. space program.
NASA officials are working diligently "on evolving the way we work with the private sector," Deputy Administrator Lori Garver said July 28 at the NewSpace 2011 conference here.
READ MORE
Private Spaceship Builder Wants to Go to Mars ó To Save Humanity
by Mike Wall, SPACE.com Senior Writer
A private spaceflight company is dead serious about taking astronauts to Mars, saying that the very survival of humanity depends on settling other planets.
READ MORE
New Private Rocket's Launch Debut Delayed Two Months
Peter B. de Selding
PARIS ó The inaugural flight of Orbital Sciences Corp.'s Taurus 2 rocket will be delayed by about two months, to December, to allow time for the completion and certification of rocket propellant and pressurization facilities at the vehicle's Wallops Island, Va., launch site, Orbital Chief Executive David W. Thompson said July 21.
READ MORE
---
And, of course, don't forget to check out our very own Blog:
http://www.other-worlds-cafe.com/news/blog/
A short break from gravity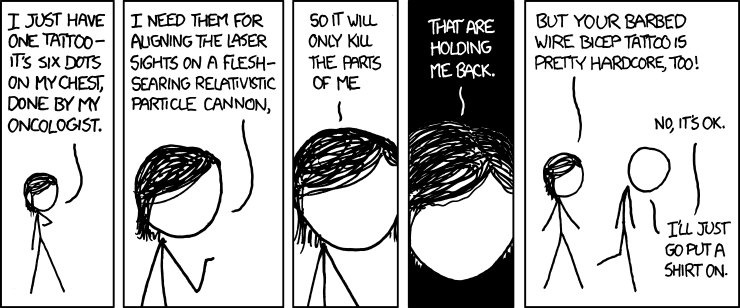 Hook in the Book
Prologue
Nauvoo Vision, en route to Saint George, New Utah, 3035
Ship's time; it was well past midnight. Reuben Fox padded silently through the empty corridor. The Delegation all slept like exhausted children, thanks to a generous dollop of melatonin in their evening nightcaps. "It's a Mormon Tea," he'd said, passing around the steaming cups. "No caffeine. Help you sleep like babies before we descend tomorrow."
And indeed they did. He stopped before a door just outside the cargo bay, marked only by a small plate that read "Maintenance Access." He tapped softly. Barely a tap, even. More like stroking the door with his fingertips. It opened, silently. "Twenty minutes to Fling," he murmured. Asach Quinn nodded, stepped into the corridor, satchel in one hand, a sealed hard case in the other. Fox pulled the door shut noiselessly, and led the way.
Outies
J.R. Pournelle
Last Word
So...Did you miss me?
Join our science fiction chats!
---
To receive this newsletter by mail, use our Subscription Form.