"Science Fiction Brewed Fresh Daily"


Date: July 2010
Issue No. 75
Precursor
It's 2:00 a.m.
As I sit here at my desk, I am listening to "Starman Jones" by Robert A. Heinlein. Old classics are quite often overlooked as dated, but I find there's still quite a lot of appeal to them. I'm only a few chapters into this, but so far, I'm not finding anything completely out of line with what we have today. If you don't look too closely at the technology, it's still quite believable. Or should I say, it's easy for me to suspend my disbelief long enough to really get into the story.
Maybe it's the listening at 2:00 a.m. ;-)
All SF General and O*W*C chats will now be held in our Web chatroom at:
http://www.other-worlds-cafe.com/chats/chatroom/index.php
For news and information about Web chat, visit our site at:
http://other-worlds-cafe.com/chats/
New SF books for July 2009
DISCORD'S APPLE - Carrie Vaughn
SHADOW GRAIL #1: LEGACIES - Mercedes Lackey, Rosemary Edghill
THE BIRD OF THE RIVER - Kage Baker
GATEWAYS - Elizabeth A. Hull
VIRGA: CITIES OF THE AIR - Karl Schreder
MORE STORIES FROM THE TWILIGHT ZONE - Carol Serling
THE GIRLS WITH GAMES OF BLOOD - Alex Bledsoe
THE WORD FOR WORLD IS FOREST - Ursula K. Le Guin
THE GOSPEL OF THE KNIFE - Will Shatterly
WITHOUT WARNING - John Birmingham
A PRINCESS OF LANDOVER - Terry Brooks
CITY OF GHOSTS - Stacia Kane
UNHOLY MAGIC - Stacia Kane
MASS EFFECT: RETRIBUTION - Drew Karpyshyn
DRAGONGIRL - Todd J. McCaffrey
TONGUES OF SERPENTS, A NOVEL OF TEMERAIRE - Naomi Novik
THE WAR THAT CAME EARLY: WEST AND EAST - Harry Turtledove
BEN 10 ALIEN FORCE: DOOM DIMENSION: VOLUME 2 - Peter David
CODE: BREAKER 1 - Akimine Kamijyo
FOUR-EYED PRINCE 3 - Wataru Mizukami
LE CHEVALIER D'EON 8 - Kiriko Ymeji, Tou Ubukata
MUSHISHI 8/9/10 - Yuki Urushibara
NEGIMA! 27 - Ken Akamatsu
SAYONARA, ZETSUBOU-SENSEI 7 - Koji Kumeta
SHUGO CHARA! 9 - Peach-Pit
TSUBASA 27 - Clamp
AVATAR: THE LAST AIRBENDER 1 - Nickleodeon
MISSION OF HONOR - David Weber
TAXPAYERS' TEA PARTY - Sharon Cooper
DIAMOND STAR - Catherine Asaro
CONTACT WITH CHAOS - Michael C. Williamson
FISTS OF FREEDOM - Jerry Pournelle
See also:
Science Fiction - Penguin Group(USA)
Science Fiction and Fantasy at HarperCollins Publishers
Bantam Dell Publishing Group
Random House, Inc: Science Fiction and Fantasy
Author's/Artist's Corner
" Connie Willis is the award winning author of Doomsday Book, Passage, To Say Nothing of the Dog and Bellwether. Connie has been awarded 10 Hugo Awards, 11 Locus Poll Awards and 6 Nebula Awards. Her stories have an epic feel to them and range from laugh out loud funny to deadly serious. The first half of her newest novel, Blackout, is being published in February 2010 with the second half, All Clear, being published in the fall."
Movie & TV Buzz
2010.07.01
---
NOTICE: For the time being we will be discontinuing FICTION CORNER
Con news
Conventions for July 2009:
2010.07.01-04 WESTERCON 63/CONCHORD 23 Pasadena, CA
2010.07.02-04 INCONJUNCTION 30 Indianapolis, IN
2010.07.08-11 GATECON Vancouver, BC
2010.07.09-11 RANDOMCON Phoenix, AZ
2010.07.09-11 G-FEST XVII Rosemont, IL
2010.07.09-11 SHORE LEAVE 32 Hunt Valley, MD
2010.07.10-11 ANCIENT CITY CON IV Jacksonville, FL
2010.07.16-18 JOURNEY TO WHERE Austin, TX
2010.07.16-18 POLARIS 24 Toronto, ON
2010.07.17-18 TFCON TORONTO Toronto, ON
2010.07.24-26 CONSTELLATION 2010 Glasgow, Scotland
2010.07.30-08.01 PULP FEST 2010 Columbus, OH
---
Your favourite convention not listed here?
go to O*W*C Resources Conventions Calendar for more!
SPACE BABEL - The latest in Science, NASA and Other Agencies
Lawmakers want NASA to speed up heavy-lift rocket
STEPHEN CLARK, SPACEFLIGHT NOW
A letter to President Obama from a bipartisan group of 62 members of the U.S. House of Representatives proposes a compromise plan to immediately develop a heavy-lift rocket, saying it would preserve jobs and America's leadership in human spaceflight.
FULL STORY
Study suggests water was a global occurrence on Mars
STEPHEN CLARK, SPACEFLIGHT NOW
Two probes circling the Red Planet have discovered evidence that water was once present in the northern hemisphere of Mars, a sign the planet's entire surface may have been habitable billions of years ago.
The European Space Agency's Mars Express mission and NASA's Mars Reconnaissance Orbiter teamed up to make the discovery, which is the first definitive proof that all of Mars was affected by water, not just the southern hemisphere.
FULL STORY /p>
Coldest Known Failed Stars Found
Denise Chow, SPACE.com Staff Writer
Astronomers have discovered what appear to be the coldest failed stars yet found in the universe – but they're a group of stellar misfits, according to a new study.
Scientists located the 14 cosmic oddities, called brown dwarfs, using NASA's Spitzer Space Telescope. These stars are so cold and faint that they would be impossible to see with visible-light telescopes, but Spitzer's infrared camera eye was able to detect their feeble glow, NASA officials said in a Thursday announcement.
FULL STORY
Misconceptions Swirl Around Obama Space Plan
Clara Moskowitz, SPACE.com Senior Writer
Since its announcement earlier this year, President Barack Obama's new space exploration vision for NASA has met with a firestorm of outcry, confusion and misunderstanding.
Some of the most common misconceptions are that the plan would take NASA out of the business of human spaceflight, that the President has introduced an untenable gap in U.S. spacefaring ability, and that NASA's budget has been slashed. There have also been claims that the new plan was a secret political scheme designed by hidden architects behind closed doors.
FULL STORY
---
And, of course, don't forget to check out our very own Blog:
http://www.other-worlds-cafe.com/news/blog/
A short break from gravity
Thrilling Tales of the Downright Unusual: Interactive Illustrated Tales from Metropolis and Beyond.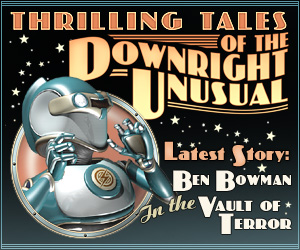 Hook in the Book
Mars was empty before we came. That's not to say nothing had ever happened. The planet had accreted, melted, roiled and cooled, leaving a surface scarred by enormous geological features: craters, canyons, volcanoes. But all of that happened in mineral unconsciousnessm and unobserved. There were no witnesses--except for us, looking from the planet next door, and that only in the last moment of its long history. We are all the conciousness that Mars has ever had.
Red Mars
Kim Stanley Robinson
Last Word
Regardless of the hour of day, listening to or reading a good book is still my chosen avenue to imagination, inspiration, or just plain relaxation. There doesn't seem to be enough time in the days ahead to read half of what I've already stacked under the bed, in front of the shelves and atop every level surface in the house, let alone the books I'll probably pick up every time I pass by the neighborhood of a bookstore, but I'm really trying to cram as many of these worlds into my brain as it will hold.
Well, actually, my brain doesn't seem to hold quite so much. Lately there seems to be a little spillage. There have been a few times in the past couple years that I've picked up a book, certain I've never even heard of it, and find that I'm recognizing an "old firend" within a few pages. That doesn't stop me from reading it again. It's kind of like catching up on the news while we've been out of touch. And it just inspires me to read more -- to make new friends.
Join our science fiction chats!
---
To receive this newsletter by mail, use our Subscription Form.